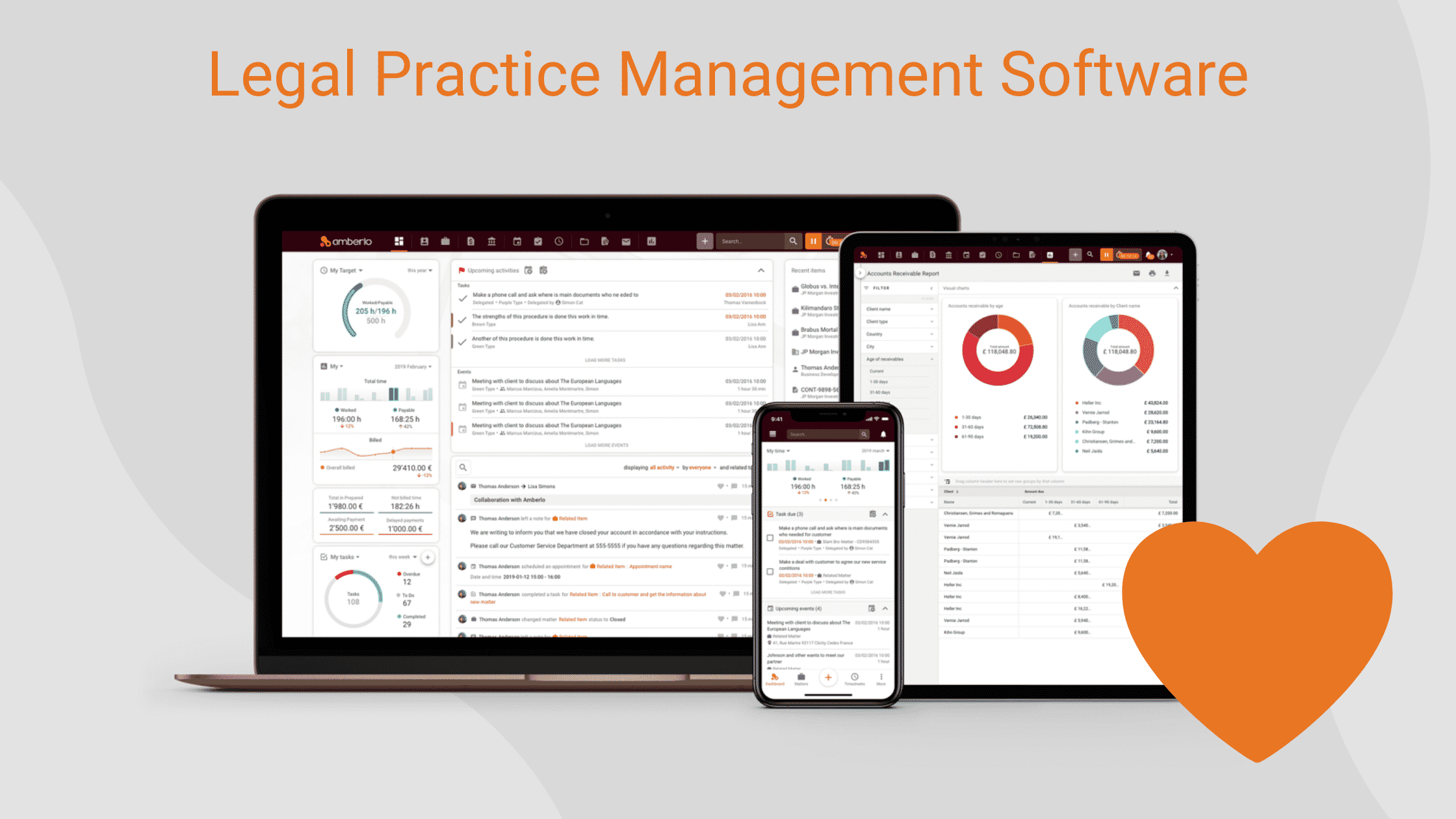 For too long the worlds of technology and law did not meet. However, thanks to legal practice management software, this is no longer the case. Now, trusting in a functional legal practice management software is not only advantageous but is also completely necessary too. With the right law office technology, administrative tasks can be completed more efficiently with less chance of error—ensuring that nothing gets missed.
So, what is legal software and what can you expect from utilizing such a digital tool? Here's everything you need to know as well as our tips to help you choose which platform is best for your firm.
What is Legal Software?
In the easiest of terms, legal software is a platform that has been designed to help lawyers manage their caseloads as well as their office tasks more efficiently. This includes, but is not limited to:
Client & case records
Legal billing & accounting
Legal calendar & appointments
Task management
Deadlines
Computer files
Facilitate compliance requirements
As you can see, this type of comprehensive software is created to support lawyers and streamline operations where possible.
When fully understanding "what is legal software", you will see that the main goal of these platforms is to help attorneys become more client-focused and productive. With menial tasks being automated and workflows optimized, there is more time for lawyers to do what they do best – win cases.
Key Functions of Legal Practice Management Software:
Above all, legal practice management software's main purpose is to empower lawyers with an effective and efficient work process. This paperless workflow allows lawyers to stay organized, and through cloud-based technology, connected at all times. The main functions of this technology extend from better compliance to thorough record keeping.
The key to finding the right legal software for your law firm is to know what lookout for and what services you will need. Here are a few features to keep in mind:
Client and Matter Management
Basic software allows you to manage contacts, contracts, and legal information. However, finding a platform that can be altered to your clients' specific needs and case types makes for a great software. This is what will set apart standard legal practice management software from technology that is optimized for your firm.
Time and Expense Recording
Time recording and expense tracking is a huge benefit of working with these platforms. Billing clients in ways that suit you and your agreement makes for faster payment times as well as better client relationships.
Automate and streamline your documentation processes to ensure easy delivery and collaboration across your organization and with your client. Use cloud-based technology to store, create, and manage contracts, invoices, and other important files.
Never miss a deadline or client meeting with easy to use and integratable calendar scheduling. This will keep you organized and connected when you're on-the-go.
Organize tasks, check-up on task statuses, and manage your team's workload under one platform.
Email seamless integration with legal practice management software results in an easy and automatic saving of emails to their correct place: contact or matter. When you have multiple people working on the same case, you can see each other's emails relating to a specific matter, eliminating the headache of forwarding or bcc'ing. Moreover, you can create emails from your client or matter and automatically bill for a time as you send your emails.
Data Back-ups and Security
Adhere to the latest data compliance and security laws with automated updates and backups. Encrypted data and privacy protection are of top priority for most legal practice management software providers.
What You Need to Know About Choosing Your Legal Practice Management Software:
In 2021, there's a long list of functions and features that all law firms should be made aware of in their hunt for legal software. These range from data protection to remote working capabilities, all of which can be found below.
Evaluate Their Cybersecurity Offering
Due to the sensitive nature of the legal industry, working with software that is encrypted to protect your data is essential. Not only will this ensure that you're upholding regulations and compliance in your organization, but it will also assure your clients.
Ensure You Can Access the Platform Remotely
When working from home or out of the office, you will need a platform that can be utilized from anywhere and from any device.
Assess Their Customer Support
Should you run into any issues, a customer support base is vital when it comes to troubleshooting and your overall satisfaction.
Look for Cloud-Based Technology
Cloud-based technology is often the preferred solution for law firms. As opposed to on-premise technology, cloud computing can be accessed via the internet and is often equipped with the most modern technology.
Consider the Cost
Most importantly, assess how the platform will fit into your budget. Your chosen software should add to your firm's success, not reduce it. Rather than requiring you to lay out thousands of dollars to purchase a bulky system with no support, look for a legal software on a monthly subscription basis, which includes unlimited ongoing training and support.
Which Legal Practice Management Software is Right for Me?
With all there is to consider, how do you know which legal practice management software is best for your law firm? Amberlo offers its clients all of the above features and more! Learn more about what Amberlo can do for you or how your law firm can benefit from it by dropping us an email at info@amberlo.io or have a look at our website www.amberlo.io.